salishan Place by the River will be hosting exhibits in other locations around the community until its opening in 2024
---
Past exhibits
2023
Pop'd Arts
November 2022 - June 2023
Pop'd Arts is a free pop-up art gallery brought to you by salishan Place by the River, showcasing local artists in our communities. Located in the Riverside Community Room along the Fort to Fort Trail in Fort Langley, Pop'd Arts is welcoming groups and individuals to exhibit a pop-up exhibition each month for one weekend only!


Past Pop'd Arts exhibits
June 23-25, 2023
Featured artist: Judy Nygren and Patricia Falck
Judy Nygren and Patricia Falck come together in this show featuring high-contrast paintings of florals, foliage, and horses. Come check out their beautiful work, and see how the two local artists play with bold colours and textures, while still complimenting each other's unique and individualized brush strokes.

May 26-28, 2023
Featured artist: Melissa Clark
While in university, Melissa was introduced to the term topophilia, meaning a sense of place. Since then, Melissa has been incorporating this term into her artwork by reflecting on memories of home and nature in her paintings. The majority of her current paintings depict shapes and movement of multiple images/exposures that we may find in nature.

April 5-17, 2023 at Aldergrove Kinsmen Community Centre.
April 20-May 4 at Riverside Community Room in Fort Langley
Pop'd Arts presents Green Art: Sharing Sustainable Approaches and Practices.
This travelling, pop-up exhibition featured art made from environmentally friendly, non-toxic, natural or repurposed materials.
The goal of this exhibition was to engage and inspire community members of all ages to learn different ways of using and viewing used items from households, workplaces and businesses.
Award recipients
Green Art - Award Recipients

| Award Name | Name | Artwork Title |
| --- | --- | --- |
| Best in Show | Karlie Norrish McChesney | Marry It |
| Second Place | Debra Wright | Celebrate Your City |
| Third Place | Shawn Van Kleef | Tractor |
| People's Choice Award | Ralph Heading | Octopus Arm in Porthole |
| Sierra Waste's Green Award | Karlie Norrish McChesney | Tie it Up |
| Award of Merit | Ron Simmer | KiddyMower |
| Award of Merit | Nathaniel Marchand | Meditation I (Clematis) |
| Award of Merit | Rose L. Williams | Smoke Bush Signals |
| Jury's Pick - Honourable Mention | Kaitlyn Beugh | Wave Imprint #78 |
| Jury's Pick - Honourable Mention | Ron Simmer | Rusty Canadian Gothic |
| Jury's Pick - Honourable Mention | Karlie Norrish McChesney | Discover It |
| Jury's Pick - Honourable Mention | Ron Simmer | Rusty Bird |
| Jury's Pick - Honourable Mention | Nathaniel Marchand | BORN INTO BUST ONTO |
| Curator's Pick - Honourable Mention | Bob St-Cyr | Daffodils |
| Curator's Pick - Honourable Mention | Adrian Duchateau | Item 49. |
| Curator's Pick - Honourable Mention | Rose L. Williams | Filbert Follies |
| Curator's Pick - Honourable Mention | Kaitlyn Beugh | Ivy Macrame |
| Curator's Pick - Honourable Mention | Shawn Van Kleef | Table |
March 17-19, 2023
Featured artists: Fort Langley Artists Group (FLAG)
Alison Philpott
Beverly Lawrence
Daphne Scaman
Diane Zepeski
Gabrielle Strauss
Judy Vanderveen
Margo Harrison
Marion McCristall
Patricia Falck
Robin Bandenieks
Toni King
Ursula Bolivar

This Pop'd Arts exhibition will showcase a variety of works from this diverse group of artists, including paintings, drawings, and porcelain. FLAG is excited to be featuring their work in their hometown in an exhibition they're calling "Close to Home".

February 10-12, 2023
Featured artists: Tammy CRIPPS and Marion McCristall
Tammy CRIPPS and Marion McCristall joined together for this Pop'd Arts exhibition and sale. From Tammy's neutral textile paintings and sculptures to Marion's colourful paintings and photography, there was something for every art lover in this show!

January 20-22, 2023
Featured artist: Ella Taker
Explore moments of freedom, individuality, and connection in this exhibition of Ella Taker's vivid paintings of abstract realism. Her optimistic and bright disposition pours onto the canvas as vibrant, juicy colours. The intricacies of nature fascinate her and weave into many of her paintings in a unique way. Ella's paintings are an elaborate exploration of the individual and a bright connection to the earth.

December 16-18, 2022
Featured Artist and Author: Chris and Christine Potter
Chris and Christine Potter came together in this exhibition, to showcase their life-long journeys together through painting and writing. Attendees experienced watercolours that captured our natural surroundings and learned more about Chris and Christine's adventures from the United Kingdom, to the Middle East, to Fort Langley and more.

November 18-20, 2022
Featured artists: Gabrielle Strauss and Victor Gligor
Gabrielle Strauss and Victor Gligor came together in this exhibition, showcasing their adventures through painting. Attendees had the chance to meet the artists and see the tangibility of emotions and atmosphere that are demonstrated throughout their work.
The Opening Reception was supported by the Fort Pub and Grill.
2022
Beginning's End: An Artistic and Celebratory Send-Off
June 7 - September 30, 2022 (now closed)
This exhibition, Beginning's End: An Artistic and Celebratory Send-Off, marked the closing of the 64-year-old Langley Centennial Museum. This final exhibit celebrated the local groups and artists who have exhibited here over the years, and the role of the Langley Centennial Museum in our community.
The Langley Centennial Museum first opened on July 1, 1958. In 1974, the National Exhibition Centre opened as an addition to the existing Museum. This gallery space enabled the Museum to welcome travelling exhibits from around the globe, and to highlight the arts and culture of our local community. For almost five decades, the gallery has been a space for local artists and the community to share and be inspired.
Long-exhibiting members of community arts groups including the Langley Arts Council, Fort Langley Artists Group, Fraser Valley Potters Guild, Langley Weavers' and Spinners' Guild, Fraser Valley Watermedia Society, and local Indigenous and Métis artists coordinated in collaboration with stalew Arts & Cultural Society, have joined together in this artful send-off to the Langley Centennial Museum. Over 250 pieces of art were on display.
2022 Foyer Art: Joy Munt
May - July 2022
My main brush is a power sander. It allows me to approach my landscapes in the matter in which I perceive them, which is a beautiful world of construction, stasis and deterioration and yet somehow polished and smooth. My paintings are an expression – a distillation – of the impressions made on my psyche by the landscapes around me, whether it be the prairies in which I grew up, the West coast of my adult years or the short time I spent in a large Eastern metropolis. My process is evident my art; it's not something I try to hide, use and then discard, or disguise. The techniques and tools I employ – layers of pigment, sanding, scraping back, lettering – are there, exposed in the finished work. The text I use in my pieces is often found on, or inspired by the text visible on shipping containers, grain elevators, truck, trains; sometimes I use randomly chosen numbers or letters chosen purely for what they bring to the piece graphically or compositionally.
Green Art: Sharing Sustainable Approaches and Practices
February 19 – May 21, 2022
Be greenspired at Langley Centennial Museum. Experience a gallery of works produced by people from across our region, and created while reducing, reusing, and repurposing household and workplace items. Each piece on display was developed with at least 75% green or repurposed materials.
"We had an amazing response from sustainably-minded community members," said Lindsay Foreman, Curator of Indigenous Arts and Culture and exhibition lead. "126 unique works from contributors living across the lands known today as BC were reviewed by the adjudication committee."
The pieces selected for the Green Art exhibit have been arranged by their primary material to raise awareness about the different types of consumer waste. This approach also demonstrates how different people are reusing and repurposing similar materials to create sustainable art.
Visit the exhibit to be greenspired, and find creative ways to reuse, and reduce waste every day.
This project is funded by the BC Arts Council.
Green Art demonstrations and discussion
Several of our exhibiting artists will be onsite this spring to share their sustainable approaches. Participate in these demonstrations with your museum admission.
Spreading the Greenspiration
In addition to the gallery space at the Langley Centennial Museum, green artworks are on display outside the 4th Floor Fraser River Presentation Theatre at the Langley Civic Facility, 20338 – 65 Avenue. View them between 8:30am and 4:30pm, Monday to Friday until May 20, 2022.
Green Art contributors by category
Natural
Bart Begalka

Tanya Bub
Gwenyth Chao
John Clinton
Laurel Dahill
Rachel Kiers
Dan Lefebvre
Gloria Stanley
Sandra Traeger
Plastic
Roger Brenninkmeyer

Ralph Heading
Sylvie Roussel-Janssens
Natasha Vanderzwan
Fabric/Textile
Tammy Cripps
Sonja Dimopoulos
Nadine Flagel
Karen Johnson
David Kimura
Ranuki Krisothorubadu
Nozomi Kuwabara
Suzanne Northcott
Carla Paterson
Shirley Sawatsky
Linda Siemens
Julia Zinovjeva
The Garden Gals: Merril Hall, Carolyn McLaughlin, Terry Rammell, Brenda Fairfax, Brigitte Stermann, Suzanne Biehl, Susan Tamkin and Karla Winters
Paper
Carmen de Haan, Vienna Onderwater and Ellie VanOene
William Frymire
Elizabeth Gelderman, Brenna Hansma, Annika Vandergugten, Carys Roukema and Robyn Huttema
Emma Harrison
Erin Sauha Lee and Jenn Pearson
Karlie McChesney
Charly Mithrush
Alex Stewart
Debra Wright
Paint
Kaitlyn Beugh
Monica Gewurz
Metal
Arnt Arntzen

Valerie Arntzen

Diane Roy

Ron Simmer

Shawn Van Kleef
2022 Foyer Art: Hong Park
March - May 2022
I am a Korean-Canadian artist currently living in Langley, BC.
My art practice is deeply involved in the investigation of my identity as a Korean immigrant who has rebuilt a life for my family when I left a corporate job in Korea and started a new life in Canada working in a physically demanding construction industry.
In my practice, I experiment with different ways of utilizing the materials and tools often used in the construction industry such as cement, tile cutter and power mixer. Through an intimate interaction with these materials in my studio, I explore how these elements of the construction industry can be recontextualized into works of art as I incorporate elements of Korean culture that I embody.
I have spent decades working with these materials and tools as a part of my career. In my art practice now, I am giving the mundane and banal materials and tools a new meaning. By doing so, I am providing the viewers a new way of approaching and interpreting these elements of construction industry.
2022 Foyer Artist: Crystal Rassi
January - March 2022
Crystal is an award winning and internationally collected fine arts painter. She has been published in various magazines since she was a teen and taught community art classes in Saskatchewan prior to moving to North Vancouver where she and her family now reside. She currently holds an active status for the Federation of Canadian Artists and is a member of the North Van Arts community.
Crystal was born and raised in Saskatchewan and travelled through three Prairie provinces for her education in Fine Arts and Architecture. After receiving her Bachelor's degree in Architecture, she acquired a Celta certificate for ESL teaching in Toronto. Instead of travelling abroad to teach ESL, she and her husband raised their two kids in Saskatchewan where she worked in design, painting, showing and selling her work, and teaching art.
Crystal aims to capture Canadian environmental portraits that trigger an emotional response of nostalgia, contemplation, and appreciation through an impressionistic, colourful style in traditional old medium.
2021
Upstream/Downriver: Walking the stɑl̓əw̓ Watershed
October 23 - February 6, 2022
A collaborative research-creation project that addresses climate change at the local scale of the lower Fraser River watershed has resulted in an exhibition titled Upstream/Downriver: Walking the stɑl̓əw̓ Watershed. The display at Langley Centennial Museum takes audiences on a journey of walking, listening, and learning.
Artists Alysha Creighton, Erica Grimm, and Joshua Hale have combined video, sound, installation and drawing to connect viewers to the realities of climate impacts in our region. Their works also give voice to the river, pointing the way to how we may reimagine our relationship with the land and learn to walk in a good way on this territory we call home.
Commonly referred to as the Fraser River, stɑl̓əw̓ is the hən̓q̓əmin̓əm̓ word for "big river." The artists and Project Siyá:m Patricia Victor walked and listened to experts about the stɑl̓əw̓ and how climate change is affecting the region, including Sesmelot (Fern Gabriel), Kwantlen Language Keeper, Andrew Victor, Chief of Xwchíyò:m Nation, and Annelyn Victor, Xwchíyò:m Youth. Their voices joined with other experts in the areas of geology, biology, math, poetry, urban geography and philosophy, including Heesoon Bai, Katharine Bubel, David Clements, Tim Cooper, David Jordan, Maxwell Ofosuhene, Sam Pimentel, and Bruce Shelvey to create a soundscape for the exhibition experience. The sounds of the river are carefully blended with their words.
"The importance of holding these voices as equal was our aim," said artist, Erica Grimm, "But all of these voices agreed that climate change is serious, human caused, and the time to act is now."
Grimm's work maps the bloodline of the stɑl̓əw̓, tracing lost tributaries and the coming flood lines of the lower Fraser River watershed. Another piece by Grimm and Tracie Stewart suspends bandaged cedar roots and willow branches from the museum's ceiling, drawing a river through the gallery space. Alysha Creighton's video work immerses viewers in the river, seeking to dissolve boundaries between human and environment. Joshua Hale's work explores the potential effects of climate change on the region, imagining multiple possible futures; red string connects his pieces like an evidence board, frantically trying to find solutions, while the way forward for humanity remains unclear.
Upstream/Downriver: Walking the stɑl̓əw̓ Watershed is supported in part by funding from the Social Sciences and Humanities Research Council. For more information, please contact 604.532.3536 or lcmbookings@tol.ca.
2021 Foyer Artist: Zuzana Vasko
October 2021 - January 2022
Zuzana Vasko's art practice inquires into human-nature relations. She teaches with the Faculty of Education at Simon Fraser University (SFU), where her research looks at how aesthetic awareness and creative practices in relation to nature help build more intimate connections with ecologies close to home. She has a BFA from the University of Victoria, and her graduate studies in Arts Education were completed at SFU. Her pieces at the museum came from closely observing the results of weather events on walks in forests near her neighbourhood.
2021 Foyer Artist: Joel Libin
August - October 2021
Joel Libin is a creative painter interested in mark making, shape, colour, line drawing and allowing texture to develop upon his surfaces. He has participated in many exhibitions across Canada, as well as in Paris, Beijing, and New York. His work was also featured in the publication Vancouver Home: Summer 2018, by Movato Home Design. Joel Libin's series of paintings, Mimic, explore repetition and patterning, mark making and shapes, in order to compose facial features from the word Mimic.
Libin lives in the Lower Mainland, and can be contacted at JoelLibin@gmail.com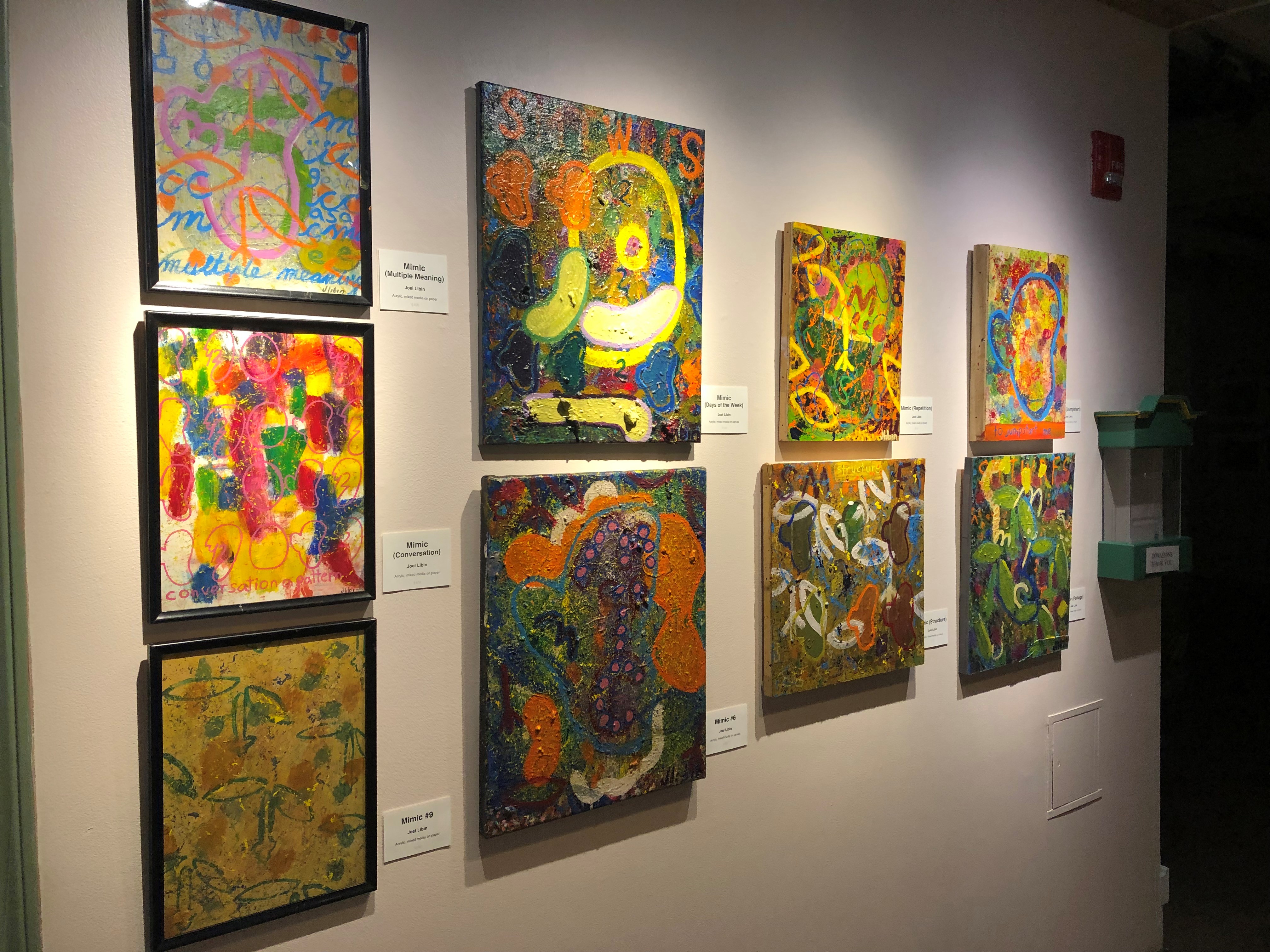 Critical Care: Environmental Stewardship in Langley
July 24, 2021 - October 3, 2021
Langley's ecosystems are in a precarious situation. As urban development continues, residents and organizations have stepped forward to support our valuable waterways and natural spaces. Several of these groups have partnered with Langley Centennial Museum in their latest exhibit, "Critical Care: Environmental Stewardship in Langley." Organizations featured include Langley Environmental Partners Society, Little Campbell Watershed Society, Yorkson Watershed Enhancement Society, Langley Field Naturalists, Glen Valley Watersheds Society, Nicomekl Enhancement Society, Salmon River Enhancement Society, and Climate Crisis Langley Action Partners.
Through independent action and organized efforts, many Langley residents are doing their part to preserve, protect, and enhance our local biodiversity. The new exhibit highlights this critical care being delivered every day in our communities, shining a spotlight on work that many residents may not be aware of. "There are so many ways to get involved, and the stewardship groups exhibiting here are active and can use your support," said Lisa Dreves, LEPS Stewardship Coordinator.
In addition to the local groups involved, a Tsawwassen documentary film maker is also participating. Jocelyn Demers is an independent producer and the owner of Monde Films, and his moving 2018 documentary "The Watershed Guardians of the Fraser River" is playing in the gallery alongside the current exhibit.
"From identifying your watershed on a map, watching a documentary, or playing the "Salmon Power" board game, there's many ways to learn more about our ecosystems and what is being done to support them," noted Kobi Christian, Arts & Heritage Curator. "We hope this exhibit inspires people to do what they can, where they can, to support our natural places. Every little bit helps."
A couple of the exhibiting groups will be setting up outside the museum on Saturday mornings in August to provide even more information, and connections to their work through an activity. For morer more details contact 604.532.3536 or lcmbookings@tol.ca.
2021 Foyer Artist: Glenys Deschenes
April 2021 - August 2021
Glenys Deschenes
Glenys Deschenes has spent most of her life studying the art of sculpture in different mediums and designing moulds for reproduction. For the last 15 years, she co-owned a bronze casting foundry where she and her partner cast the works of various artists using the Lost Wax Process. These included works by Robert Davidson, the Bill Reid Foundation, Parvis Tanavoli, and David Robinson. Glenys worked as head mould maker and designer, using the moulds to produce wax replicas and ensuring the highest level of reproduction for her clients.
Prior to this work, Glenys was a member of the International Alliance of Theatrical Stage Employees (IATSE) for a number of years, where she was hired to produce a variety of sculptures and moulds for film sets.
This continued interest in the visual arts lead Glenys to return to school in 2008, to study arts and culture at Simon Fraser University. It was here that her interest in painting came about. Oil, watercolour, and acrylic mediums present exciting challenges that allow for new self-expression. She further seeks to investigate the effect of culture and social events on individual actions and choices: how the environment influences people's behaviour towards themselves and others.
The early pieces shown here demonstrate a promising exploration into colour, form and ideas.
Creative Reuse: The Art of Upcycling
April 2021 - July 2021
Artists honoured at Creative Reuse Exhibit
Langley Centennial Museum, in partnership with the Langley Arts Council, is featuring a new exhibit titled "Creative Reuse: The Art of Upcycling" displaying works of art and design created from items that would otherwise end up in our landfills. Each piece is composed from a minimum of 75% found or repurposed materials, giving it a unique new value and aesthetically pleasing function.
"It is interesting to see how many artists are doing fascinating work with recycled materials through their regular practice," said Langley Centennial Museum Arts & Heritage Curator Kobi Christian. "To see how they transform an item into something new and original while still embodying a bit of that former use, it's amazing."
The museum is showcasing the work of 27 artists with over 40 pieces of art in "Creative Reuse".
Exhibit honours were awarded based on originality, visual appeal and creative use of materials. Special recognition went to:
First Place: Yorke Graham, "Austin"
Second Place: Shirley Sawatsky, "Peaceful Mind, Peaceful Life"
Third Place: Jayden Doan, "Nostalgia"
Honourable Mentions were received by Arnt Arntzen for "One Legged Stool", Nadine Flagel for "Tulips (Pink)", and Ron Simmer for "Big Bird".
In addition, a Director's Choice prize has been awarded to Valerie Arntzen for her "Tools of the Trade" series.
The upcycling movement has witnessed a resurgence as people work to combat climate change. However, the "do what you can with what you've got" approach has existed throughout history, particularly when resources have been harder to access during times of war, pandemics, and economic depressions. It is hoped that visitors to the exhibit will be inspired to find ways to upcycle items in all aspects of life, and explore ways for households, workplaces, and businesses to consume less, reuse, and repurpose for sustainable change.
The exhibit runs until July 11. To see the display, and possibly be inspired to make something yourself, book a visit to Langley Centennial Museum at museum.tol.ca or contact lcmbookings@tol.ca.
This exhibit features the work of:
Valerie Arntzen, City ArtWorks, Sonya Iwasiuk, Carol Hogan, Ralph Heading, Bella Choi, Charity Gosling, Jen O'Connor, Bill Thomson, Jason Watt, Natasha Vanderzwan, Monica Nudelman, Sybille Kissling, Kevin Matthee, Syvlie Roussel-Janssens, Vitoria Monteiro, Ron Simmer, Tracy Lynn Chernaske, Jen Candela, Yorke Graham, Nadine Flagel, Jayden Doan, Robert Maitland, Arnt Arntzen, Christine Hart, Jane Dunne, and Shirley Sawatsky.
*"Tools of the Trade" series by Valerie Arntzen was awarded the Director's Choice Award at "Creative Reuse: The Art of Upcycling", on now at Langley Centennial Museum.
Roaring! Langley in the 1920s
Fall 2020 - April 2021
Click here to view the virtual exhibit
One hundred years on, exhibit shows how Langley "roared" - or didn't.
"The Roaring Twenties" is a term that conjures up prohibition rumrunners, flappers, gangsters, and gun molls. But how accurate is this depiction? What would life really have been like for Langley's residents during this iconic era?
In 1920, the world was reeling from years of unrest. The First World War had ended in November 1918. There had been several strikes, violent uprisings, revolts, and revolutions around the globe, both during the war and in the years following it. On top of this turmoil was a worldwide pandemic of the H1N1 Influenza virus, dubbed the "Spanish Flu," which began in 1918 with waves continuing into 1919 and 1920, killing almost twenty million people.
Despite all of this, the new decade might have seemed like a fresh start to many. While losses of the recent past were still close to countless hearts, many set their sights on a new future, looking ahead to peace, prosperity, and the pleasures that came with modern living. Influences from our southern neighbour, including the Jazz Age, the rise of Hollywood, and even American Prohibition, have influenced how we think about this era today, and would have indeed had an impact on Langley residents then, in varying degrees.
Historians have written accounts of the decade, and the museum's collections include artifacts, archival materials, photographs, and oral histories that bring the years to life. This exhibit examines and interprets those items to provide insight into what Langley life would have been like a century ago.
While the exhibit shines a light on the rise of convenience items, buying on credit, flappers, and the beginning of Hollywood's influence, it also shows the importance of our local community halls and schools, our early midwives, nurses, and doctors, and spotlights the Langley Prairie fire of 1928.
The exhibit also highlights the ways in which the decade did not "roar" for everyone: residential school attendance became compulsory for Indigenous children, the Chinese Exclusion Act was passed, the Ku Klux Klan set up in Vancouver, and the local White Canada Association and farmers' institutes, like others around the Fraser Valley, pushed for the exclusion of Asian people from land ownership.
Visit the exhibit virtually through the link above or to see it in person reserve your time here. For more information, please contact curator@tol.ca.
High school class at the Milner Community Hall, 1923.
2021 Foyer Artist: Sahar Banisoltan
January 2021 - March 2021
Sahar Banisoltan
Sahar is fascinated by the mountains, trees and ocean in the Lower Mainland, and how infrastructures are integrated into nature in a harmonious way. As a British Columbia resident who loves hiking and cycling, she paints joyful moments of her outdoor adventures using the dance of watercolour pigments on Arches paper.
2020
2020 Foyer Artist: Dylan Pickering
March 2020 - January 2021
Dylan Pickering
Dylan is a self-taught artist from Vancouver. Starting with graphic design in secondary school, over the past 10 years Dylan has made his way through clothing and jewelry design, and has studied oil, acrylic and watercolour painting. In his modern work he focuses on minimal, abstract resin art. The influence for his unique triangular panels are simply shape and colour. Future goals for Dylan include large-scale work, international recognition, and creating beautiful art everyday.
The Sporting Life: A History of Athletic Fashions with Ivan Sayers
February 1 - May 18, 2020
After six years, the museum is once again privileged to work with Ivan Sayers to present a new exhibition, The Sporting Life: A History of Athletic Fashions. Over 40 mannequins have been outfitted with clothing that speaks to over 100 years of activity, from a riding habit from the 1870s, turn of the last century clothing made suitable for cycling, skiing, fencing, swimming, and even Olympic attire. The story of who wore them will be included, and the history of the fashionable times the items represent. The museum will be collaborating for the first time with the Cap's Bicycle Museum, which will be loaning vintage bicycles for the show.
2020 Foyer Artist: Kendra Schellenberg
January - March 2020
Kendra Schellenberg is an emerging multi-media artist from the Fraser Valley. She is a graduate of the BFA program at the University of the Fraser Valley, where she graduated with a major in visual arts and an extended minor in creative writing. Her work often addresses themes of body and identity, and more specifically their relation to femininity and womanhood. She works in multiple mediums, from photography to pen and ink, and has a penchant for fine line work and drawings of mushrooms.
She can be found through her website kendraschellenberg.com or through her Instagram account: @k.schellenberg.
The work of Kendra Schellenberg will be on display until early March 2020.
2019
Langley Collects!
September 2019 - January 2020
What do people collect, and why? Come to learn about collectors in your community!
2019 Foyer Artist: Lynne Bradford
August - October 2019
Lynne has always has the need to practice art. Starting before she was school age with a pencil or pen and her mother's writing paper or even paper shopping bags, she felt driven to draw what was in her environment. Through the years, she tried many mediums and welcomed any new challenge with passion. She is still challenging herself and this is evident in the variety of her artworks.
Our Living Languages: First Peoples' Voices in British Columbia
June 13 – September 8, 2019
Visit this summer to learn about the numerous First Nations languages spoken around the province! Our Living Languages: First Peoples' Voices in British Columbia is an exhibition created through a partnership between the Royal BC Museum and the First Peoples' Cultural Council, a Crown Corporation with a mandate to support the revitalization of First Nations languages, art and cultures in British Columbia, with the assistance of the Language Exhibition Advisory Council. The Langley Centennial Museum is pleased to be the first stop of this travelling exhibition, which honours language champions young and old who continue to work tirelessly to preserve the languages existing in BC, and dream about a future where these languages thrive once again.
2019 Foyer Artist: Diane Colonval
May - August 2019
Animals have always held a very special place in my life. They give so much unconditional love and I can't imagine my life without them. There is something about looking into those honest eyes of theirs that's just good for you soul. I started sketching them in my teens any time I had a piece of paper and a pencil handy. And then I discovered soft pastels and velour paper and have never looked back. I love the way they give depth and softness to the animal. For years, I did commissions of peoples' animals and was always thrilled when I managed to capture the personality of their pet. I continue to strive to convey the beauty of these animals through my art.
Legh Mulhall Kilpin: Teacher | Painter | Printmaker
April 13 - June 2, 2019
The Langley Centennial Museum is pleased to present an art exhibition of the works of Legh Mulhall Kilpin (1853-1919). The exhibition is drawn from the Langley Centennial Museum's extensive collection of Kilpin's works, nearly all of which were donated by the late granddaughter of the artist, Mrs. Elizabeth Illsey.
"The museum is commemorating the 100th year of Kilpin's passing with a re-examination of this important collection," said Curator Kobi Christian. "People are really taken with the number of pieces on display and the quality and variety of art he created."
The exhibition explores the life and work of an artist who was trained in Britain and came to Canada in the early part of the 20th century, at a time when Canadian art was predominantly influenced by the British and French schools. Various mediums in which he worked are included in the exhibition, including oils, watercolours, etchings, and monotypes. Kilpin worked in a variety of genres, including portraits and landscapes.
Also on display in the exhibition is a short two-part film titled, "Home is Where the Art Is," created by Edward Petherbridge in 2012. Petherbridge used works from the museum's Kilpin collection in the film.
A reception will be held to celebrate the exhibition on Saturday, May 4, from 2:00 to 4:00pm. All are welcome to attend the free event.
2019 Foyer Artist: Laura Levitsky
February - May 2019
"Art is where I go to explore and express. I get lost in it. It is the only thing I seem to have an infinite patience for as I can sit for hours and meticulously paint every hair of lichen growing on a tree."
Laura always had a love for nature and painting. Growing up in Regina, Saskatchewan and travelling through the United States where she was born, she felt she was continually exposed to the beauty of natural landscapes, from the golden prairies of Saskatchewan to the canyons and lush forests of Yellowstone National Park. Although she painted and sketched throughout her elementary and high school years, it wasn't until the fall of 1999 that she settled into her passion for painting, starting at the kitchen table with five tubes of paint. Since, she has become recognized as one of British Columbia's representational wildlife painters with top placements and awards from organizations such as Artists for Conservation, Ducks Unlimited Canada, BC Wildlife Federation, Wildlife Habitat Canada and the Pacific Salmon Foundation. Her original works can be found in private collections across Canada and the United States.
Away: Artful Reading Inspired by Jane Urquhart's Novel A Group Show Presented by the Open Book Art Collective
January 15 - March 31, 2019
"By the time I finish this story you will have decided to hug the land – the real earth – the trees in the orchard, the timbers of this house. You will have decided never to go away."
Jane Urquhart's 1993 novel Away is the seventh book that Open Book Art Collective has created original artworks for. Away traces the lives of four generations of women across landscapes: from the rocky coasts of 19th century Northern Ireland to the slums of Montreal, to the present-day shores of Lake Ontario -- emotive, political and literal landscapes that both enchant and devastate the characters. Themes of displacement and connection to land resonate with our contemporary realities of the refugee crisis, colonial legacy, and industrial development pushing the earth to the brink of environmental collapse. These broader themes of identity and place are echoed alongside the intimate details of four women's lives whose stories form the heartbeat of the narrative.
The artists of Open Book Art Collective have created a diverse body of work that responds to the poetic and cyclical storytelling found in the novel, intending to honour the richness of the literature. Threads of Irish mythology and spirituality weave throughout the corporeal, earthy, and material-focused imagery found in the exhibit. We invite the viewers to contemplate bodily responsiveness to one's unseen inner forces, the symbols we cling to in order to tell our life stories, the often unknown but intimate ties to one's matrilineal heritage, and the ever-evolving understanding of our relationship to the non-human world. Whether their subject matter is water, permeable bodies, or personal articles essential for survival, each artist has interpreted themes from the novel according to their various art practices and the way the writing impacted them personally.
All are invited to the opening reception on Sunday, January 20 from 2:00 – 4:00pm. For more information, contact the Langley Centennial Museum at 604.532.3536 or curator@tol.ca.
Open Book Art Collective (OBAC) was formed in 2013 when a small group of artists struggling to keep the work/art balance found each other. OBAC seeks to create a visual-literary dialogue with art objects that are both informed by and informing the literature they reference. Working with the mediums of painting, encaustic, drawing, sculpture, video and textiles, Open Book Art Collective's artists are brought together by their passion for literature, sharing ideas, making art, constructive feedback and a desire to build a creative community.
Facebook @OpenBookArtCollective
Instagram @OpenBookArtCollective
Email openbookartcollective@gmail.com
2018
Always Becoming: The Art of Detlef (Dick) Aporta
September 13 - December 18, 2018
Detlef (Dick) Aporta was born in Germany and moved to Canada at the age of 10. He began painting as a teenager in Vancouver before attending the Vancouver School of Art. He completed an Advanced Diploma in Design (Honours) and attended the University of British Columbia, where he earned a Bachelor of Education with a Double Art Major. While teaching art over the years, he continued to create.
Naturally left-handed but taught to use his right hand, Aporta noticed he was relying more and more on his left hand when painting and switched to using his it entirely. This change created a transformation in his style and technique by loosening him up and making his work bolder. Early works show an affinity for watercolours and many pieces reflect life along the Fraser River where he would go to paint.
Aporta has continued to try new artistic pursuits, including lost-wax casting, silversmithing, designing and constructing sets, and creating liturgical designs. Over the years, his works in acrylic and collage have become paramount. His use of colour is powerful, and the bold texture comes from working and reworking a piece, including painting over previous works in search of new territory. Through his art, Aporta reflects on his past experiences, drawing on them as a source of inspiration and examining them anew, in addition to revisiting feelings about the self, masculinity, relationships, and feelings associated with being an outsider as a young immigrant.
In his Sawdust series, Aporta revisits his years working at the Canadian White Pine Sawmill in Vancouver. This look back at his time there captures a generation's experience of Vancouver's grittier industrial working past.
Again Reaching Out by Detlef (Dick) Aporta
Paying Homage to the Past: Works by the Fraser Valley Chapter of the Canadian Federation of Artists
September 13 - December 18, 2018
The museum's temporary gallery has been split into two exhibits this fall. One side is being occupied by this juried exhibit, which features works by our local Fraser Valley Chapter of the Federation of Canadian Artists. Forty-seven pieces are displayed by a multitude of talented artists, and will honour the remnants of our past, whether abandoned and deteriorating, still in use, or renewed and given new life, creating an interesting display, rich with the history of our area. Artists from the FCA will be involved in providing a tour of the gallery and providing artist demonstrations during Culture Days weekend, September 28-30.
Happy Anniversary by Nino Dobrosavljevic | The Boathouse Beckons by Kathy Traeger
Behind the Lines: Contemporary Syrian Art
June 9 – September 3, 2018
This exhibition's stop in the Lower Mainland is at the Langley Centennial Museum. Organized by Paul Crawford of the Penticton Art Gallery and Humam Alsalim of Damascus, Syria, this exhibition features the artwork of 19 contemporary Syrian artists, several of whom still reside in war-torn Syria. This exhibit offers highly personal and moving firsthand insights into the savage brutality of war. The bloody battles at home, the madness under which the Syrian people have to live, and the heart wrenching stories of those trying to flee to safety are all captured in the artwork. This emotionally charged exhibition will undoubtedly inspire dialogue about the resulting refugee crisis, and an exploration of humanity in the face of destruction.
All are welcome to an opening reception on Wednesday, June 20, World Refugee Day, from 7:00 – 9:00pm, in cooperation with the Immigrant Services Society of BC.
2018 Foyer Artist: Melissa Burgher
Vancouver based artist Melissa Burgher is a contemporary animal and landscape painter. After art school Melissa spent many years in northern areas where she encountered varying ways of life, rugged landscapes and wild animals. From this experience she developed a love and respect for the wild and untamed Canada. While living and working in the north she owned horses and engaged with the landscape by riding in the snow or doing overnight hiking trips. She soon decided she wanted to do more for her communities and went back to school. She completed a psychology degree at UBC in 2017. In the past four years she worked in Vancouver's East end with vulnerable families, worked in Ladner with people who have autism, and was a recreation assistant in a psych ward. Melissa began to get more serious with her painting three years ago and has sold works across Canada and Internationally. She is currently employed as an Aboriginal Infant Consultant and works full time as a visual artist. She hopes to try and make a difference for those she serves in early life. She often credits her artworks energy, strong colours and shapes to the experience and teachings from many of Canada's coastal First People's.
Her work often focuses on landmarks that represent knowledge and animals that symbolize traits and strengths. Her focus is to portray nature's resilience to harsh and changing environments while also discussing ways nature can provide insight. She combines both plein air and studio painting to achieve something that is both reminiscent of the real yet strangely surreal.
Langley in Transition: Portraits of a Changing Municipality
March 10 - May 27, 2018
In the age of digital photography, social media, and the selfie, we are inundated with images. But there is something about photographs from the past that almost magically connect us to a time and place, a home and community, a memory. The museum is looking at these connections to the communities past through photographs in their newest exhibit, Langley In Transition: Portraits of a Changing Municipality, on now until May 27.
A recent collaboration between the museum and the Township of Langley's Geographic Information System (GIS) Department means that several aerial photos are available in the exhibit for the public to view. These images go back to 1954 – before the freeway was constructed, before Langley Prairie left the municipality to become Langley City, before many large-scale developments and roads. These images are presented beside archival photographs from permanent collection and contemporary photos displaying different locations in Langley "then" and "now". They all speak to change, growth, adaptation, and our ever-evolving imprint on the landscape.
The exhibit also features a film created by Ernie Sendall of Langley Prairie in the late 1930s and early 1940s, including footage of the Langley Greenhouses.
While looking back, staff at the museum are asking visitors to consider the future: what will our community look like? How will it grow and change? What will it be defined by, and how will its interests be served? This in turn invites the question: what do we want tomorrow to look like?
The Langley Centennial Museum is celebrating its 60th anniversary this year. We continue to be a home for our community history, and aim to connect people to the stories of the past while being a place to learn and share, remember and reflect.
2018 Foyer Artist: Barb Pearson
Barb's work is conceptual; influenced by the issues that she feels important to address. An experimental painter, Barb allows her process to direct her where to go with the painting, creating a very fluid process that is completely unpredictable. Particularly compelling to her is the richness in textures, both visual and emotional, that mixed media evokes. She uses a multitude of discarded and found materials on her paintings and creates dense layers which she will then deconstruct and rebuild multiples times, creating a surface that is multifaceted and full of meaning. The end result in Barb's process is not to render something in paint but to allow the materials and paint to suggest a path through the work as it develops. Barb remains in charge of how to structure and organize the image but at the same time welcomes fortunate accidents and random occurrences.
2017
From Royal Engineer to Reeve: The Life and Times of Philip Jackman
November 2017 - February 2018
Come and explore the life of one of Aldergrove's and Langley's most storied pioneers, Sapper Philip Jackman. The exhibit follows the life of Philip Jackman, a Royal Engineer of the Columbia Detachment who came to British Columbia in 1859 and later became Reeve of Langley.
Jackman opted for a life of adventure and opportunity as a young man, leaving his small farming village of Northlew, Devon, England to endure a six-month voyage across the Atlantic Ocean and around Cape Horn to British Columbia. He and other engineers quickly engaged in laying out the infrastructure for the new colony; building the provincial capital of New Westminster, surveying and constructing towns and roads, and altering rivers for safer passage.
The Royal Engineers changed the province, both during their time in the Columbia detachment and as community leaders after their disbandment in 1863. Like other Royal Engineers for whom towns, streets, and parks have been named, Jackman was a doer. He participated in the Cariboo Gold Rush, worked for the Canadian Pacific Railroad and the Provincial Lunatic Asylum, was a proprietor of a saloon, general store and post office, patrolled the streets of New Westminster as a night-watchman and the Fraser River as a Fisheries Guardian, and sat at the head of Langley's municipal council as Reeve. This exhibit draws information from censuses, directories, council minutes, newspapers, theses, monographs, correspondence, oral histories, and other archival records to present the life and times of Philip Jackman.
Please join us for the exhibit's opening reception on Saturday, November 18 from 2:00 - 4:00pm.
Fibre Arts A-Z with the Langley Weavers' & Spinners' Guild
July 25 - October 25, 2017
Let the alphabet be your guide to explore the fibre arts! From Angora and Alpaca, blankets and cat hair, to yarn and-wait for it-zombies!- the Langley Weavers' & Spinners' Guild has used their craft to explore all of the letters of the alphabet in their newest exhibit, Fibre Arts A-Z.
Whether animal, plant, mineral or synthetic, fibre has been a fundamental part of daily human activity for thousands of years. With the prolific availability of cheap clothing today, fibre is easy to take for granted. The Langley Weavers' & Spinners' Guild will explore various elements of fibre arts including spinning, weaving, dyeing, felting and knitting. This tactile exhibit is full of fibrous texture and will entice and inspire people to discover their own passion for fibre arts. The exhibit also shines a spotlight on the increasing awareness about the environmental harm and abuse of workers present in the textile industry, which demands constant change.
The artists of the Weavers' & Spinners' Guild will also be leading demonstrations as they work on their 100 km Coat - a coat made entirely of resources and talent available within our region. Visit Thursdays and Saturdays from 1:00 - 3:00pm to watch and ask questions.
2017 Foyer Artist: Karen Christensen
I am originally from Bangor, County Down, North Ireland, but grew up in Vancouver from the age of four. I have resided in the Langley area for 35 years now. I studied graphic arts in high school and graduated in clothing and design, but I am mainly a self-taught artist. I studied Nursing and had a rewarding career as a Registered Nurse for over 20 years, though I have had an abiding love of art my entire life. I retired in December 2012.
My preference for graphic design has meant that I have mostly been working with pen and ink. I enjoy photography as well. My art tends to whimsical and I love working from my imagination with a balance of simplicity and fine detail. However, I am exploring watercolours and have been doing some acrylic painting as well. Thomas Merton said that art enables us to find ourselves and lose ourselves at the same time.
Sacrifice and Sorrow: Langley and the Great War of 1914 to 1918
April 9 - July 16, 2017
Opening on the 100th anniversary of the Battle of Vimy Ridge, and created by Guest Curator and Historian Warren Sommer, the Langley Centennial Museum's exhibition, Sacrifice and Sorrow, examines the Great War of 1914 to 1918 with a focus on what the conflict meant to the people of Langley. In 1914, Langley was still largely-forested, its economy based on both agriculture and the lumber trade. The community had virtually no military heritage of its own, yet when Britain declared war against Germany, Langley's young men - many of them recent immigrants from England and Scotland - streamed into Vancouver and New Westminster, hoping to join the First Canadian Contingent.
Sacrifice and Sorrow traces the men and women of Langley as they volunteered for service, made their way overseas, underwent training, and faced the enemy in the trenches of the Western Front. We also meet the soldiers' families - proud but anxious parents, innocent younger brothers, and ingenuous little sisters - for the war involved not just soldiers fighting in Europe, but also those who remained at home. Men, women, and children joined forces to raise money, create and gather supplies for soldiers, and shoulder many of the farm duties that would otherwise have occupied their fathers and brothers.
Discover the Great War through a collection of wartime uniforms, equipment, weapons, drawings and paintings, medals and decorations, letters, and memorabilia. Witness restored archival film footage of British Columbian soldiers drilling and embarking for overseas as well as footage of The Battle of the Somme, released in 1916 and touted at the time as "the most remarkable moving picture which has ever been produced." The exhibit also features a multimedia component prepared by Langley Fine Arts student Alex Houlihan.
Close to 400 young men and boys enlisted from Langley for service in uniform. Of these, one in ten would never return to their loved ones, their remains forever lying buried in the blood-stained soil of France or Flanders. The exhibition concludes with a look at their memorials, whether it be a carefully manicured grave in a Commonwealth War Graves Commission cemetery or as one of the thousands of names inscribed on memorials to the missing on the Menin Gate or at Vimy Ridge.
2017 Foyer Artist: Felicity Holmes
Felicity Holmes has always had an appreciation for nature and the rural landscape having spent her childhood riding her horses in the Derbyshire Dales in England. After getting her Bachelor of Arts with Honours Degree in Fine Art in the United Kingdom, she immigrated with her husband to Ontario. In the late 1990s, they moved to beautiful British Columbia and settled in Brookswood, Langley. Most days she can be found walking the local trails with her two dogs while getting inspiration for her next work.
We Are Kwantlen: Ancient Artifacts Connecting Home, Belonging, Place
January 18 - March 26, 2017
Ancient artifacts are usually seen as dusty bits and pieces dug up from the ground and disconnected from modern life and society. The Kwantlen Nation wants to change this perception with its new exhibit.
As the exhibit title suggests, ancient artifacts from the Kwantlen collection -- some of them reaching back in time more than 12,000 years -- speak of life in the deep past, but these artifacts also connect today's Kwantlen members with their traditional territory, with modern cultural practice, and with everyday life.
The focus of the We Are Kwantlen exhibit is dialogue and reflection -- the connection of modern people with an ancient past that endures and is remembered in many ways.
Important artifacts are not just made of stone and bone- they are also the living legacies of language and art, ceremony and personal ritual. The exhibit celebrates living connections with the past in large black-and-white portraits, in stunning photographic landscapes, and in new art. It profiles Kwantlen members of today as they reflect on these ties, and their reflections are curated alongside important artifacts, including stone tools and weapons millennia-old, a baby basket recovered from the muddy land that has kept it safe for more than 800 years, and a feast bowl that speaks of the importance of gathering.
After a ceremonial opening reception, the exhibit will open to the public on January 18.
2016
2016 Foyer Artist: Bridge Art Studio
The Langley Centennial Museum is pleased to present the work of David Tribe, Joy Palm, James Schell, Helen Daley, Jeannette Lavallee, and Murray Brounstein from the Bridge Art Studio into our Foyer Art space.
Bridge Art Studio began at the Langley Association for Community Living in 1998 as a small group of individuals who had the desire to develop their artistic skills and to express themselves creatively. Artists' work includes a variety of subject matters and styles including realism, abstractionism and impressionism. Most paintings are done with acrylic paint on canvas. Each artist also experiments with different media, including collage, 3-d sculptural forms, painting on glass, one-of-a-kind cards, and functional art.
Artists show their works at local exhibitions and several also accept commissions. All sales proceeds go to the artists. If you are interested in purchasing art work, contact Jennifer Walton at 604-534-8611 (Ext. 228) or clubhouse@langleyacl.com.
It's Alive! The Development of Electromagnetism and Electricity
October 19 - December 23, 2016
The weather is cooling, and that means it's time for something...ELECTRIFYING! The museum is pleased to welcome "It's Alive! The Development of Modern Electricity and Electromagnetism," an exhibit developed by the museum with the collection, expertise and support of Dieter Blum, a local collector and scientist.
The main focus of the exhibit is the exciting and astonishing period of the 19th century, when almost all we now take for granted technologically was investigated, eventually understood, and developed. Before 1600, very little was known about static electricity and magnetism, but the discoveries of the next two centuries led to the creation of batteries, electric generators, motors, electric lighting, telegraphy, telephony, and the wireless. Learn how these discoveries changed many facets of society in a relatively short period of time, and how discoveries that began as court entertainment - as parlour tricks! - became the building blocks of how we understand electricity and electromagnetism today.
Mr. Blum has amassed a collection of early scientific instruments, including many unique pieces. He is an inventor with over forty patents, and a patron of the Royal Institution (London). "It has been said that the Victorians had a much greater technological overload than we think we've been having over the last 40 years," Blum noted. "You could say that the technology we all use today was largely invented during this period, and we continue to develop it today."
For more information, please contact the museum.
Photo Gallery: salishan - Temporary Exhibits - 2016 - It's Alive will appear here on the public site.

The Open Book Art Collective presents The Idiot, an Art Exhibition inspired by Fyodor Dostoevsky's novel of dramatic tragedy.
"For a long time now I've been tormented by a certain idea, but I've been afraid to make a novel out of it, because the thought is too difficult, and I'm not ready for it, though it's a thoroughly tempting thought and I love it. The idea is - to portray a perfectly beautiful man. Nothing, in my opinion, can be more difficult than that, especially in our time."

Dostoevsky, writing to his niece about The Idiot
The Idiot was published in 1868, one of Dostoevsky's latter novels written after his Siberian exile. True to disturbing tragedies in life, the literary material that Open Book Art Collective draws upon for this show is richer in questions than conclusions. Dostoevsky masterfully weaves a narrative absorbed with insight into the psychological states of complex and erratic characters, positioning four parts to the novel that is intricately constructed in order to dramatically collapse at the end in murder, disillusionment, manipulation and illness. Who is the real idiot or outsider when the majority of individuals are behaving madly? What is the use of purity, innocence and compassion in what appears to be too harsh of an environment for it to survive?
The Open Book Art Collective (OBAC) seeks to create a visual/literary dialogue with art objects that are both informed by and informing the literature that they reference. With mediums such as painting, encaustics, drawing, sculpture, photography and textiles, Open Book Art Collective's artists are brought together by their passion for literature, sharing ideas, making art, constructive criticism and a desire for creative community.
Since 2013, OBAC has produced other three art exhibits: The Death of a Beekeeper by Lars Gustafsen, Dear Life by Alice Munro, and Duke by Sara Tilley. The OBAC is passionate about creating events that are accessible to the public and have shown in public libraries and several alternative venues.
Photo Gallery: salishan - Temporary Exhibits - 2016 - Open Book Art will appear here on the public site.
2016 Foyer Artist: Amy J. Dyck
"I paint to stir up from below the surface of our existence that which is profoundly human and deeply meaningful. The human form is an incredible muse, and I visit it frequently in my work because of its rich beauty, intense challenge, and deep capacity to capture expression and nuance. Any subject, though, that may facilitate in us a deeper knowing and acceptance of ourselves and each other, may find a place in my work. Beauty is a powerful force that I work to harness through technical skill, meaningful subject matter, and strong compositions. Oil paint, a very old and beautiful medium, best supports this process for me, and has been favoured by the masters for centuries. I paint with nothing else."
Amy J. Dyck is an artist based in the Fraser Valley of British Columbia, Canada, who creates primarily with oil paints and drawing mediums. Her work tends to be representational, emotive, and sensitive, and reflects her curiosity in the universal human experience. She received her certificate in Interdisciplinary Design Studies from Kwantlen University, and has since taken drawing and painting classes through both university and private instruction. Exhibiting in group shows in the Federation of Canadian Artist's gallery, the Maple Ridge Art Gallery, and the Langley Centennial Museum, among others, she also teaches both adults and children in a broad range of creative topics, from basic discovery classes, to painting with Encaustic wax, to perspective and figure painting with oils. Amy's work is influenced by the work and processes of both old and contemporary masters.
Form and Function: A Showcase of Contemporary BC Furniture Designers
July 27 to October 9, 2016
Years ago, furniture held high value and regard as a decorative art form. Canadians of the 19th century would likely have known several cabinet makers by name. Mass production has nearly erased connections to specific artists or craftspeople. Society often takes consumer products for granted without correlating those items to their creators. Join us as we explore the talent and ingenuity of modern furniture craftspeople active in BC today. Whether organic or plastic, recycled or new, today's artists design and create pieces that support various human activities and needs while still remaining stylish. They conceive unique furniture solutions for relaxation, sleeping, food preparation, entertainment, ceremony, eating, storage and more.
A new design consciousness emerged in Canada following the end of the Second World War. Canada had a long legacy of furniture manufacturing in small studios, but an increase in consumer demand in combination with government policies of reconstruction created a favourable environment for industrial designers. New materials like moulded plywood, plastic, and aluminum drastically changed the manufacturing of furniture forever, and innovative, functional furniture design came about through exploration of these materials. Post-war Modernism became the dominant design aesthetic.
Come explore a sampling of BC furniture designers who create Objets d'art, both sculptural and functional, from diverse materials intended for placement and use in a variety of spaces. Form and Function will highlight the creativity and artistic talents of BC furniture designers while exploring the contribution they make to the larger creative collective of Canadian design.
Photo Gallery: salishan - Temporary Exhibits - 2016 - Form and Function will appear here on the public site.
2016 Foyer Artist: Candice Perry Moen
"My dedication as an artist is to satisfy my desire and yearning to understand, to interpret and view the world in different ways. Places, people, memories, and music inspire me to create representational pictures that signify a feeling of emotion and energy surrounding us as human beings. This is a series of acrylic landscape paintings of beautiful British Columbia, from places I have travelled to. These are my interpretations of the west coast wilderness."
Candice studied Design/Illustration and Fine Arts at Kwantlen University College, and has been teaching drawing, painting and printmaking since 2010 at The Neighbourhood Art Studios. She has been a member of the South Delta Artists Guild , Malispina Printmakers, Surrey Art Gallery Association (2009-present) , and The Fort Langley Artist Group (2008-present)
Tradition and Innovation in First Nations Art
May 9 - July 17 2016
Opening Reception May 14 1:00 to 4:00pm
What can be considered authentic First Nations art? Who labels, defines, and assigns value? Why is it important to push aesthetic and conceptual values of tradition? Today's artists challenge perceptions of how Aboriginal art should appear, complicating and expanding the public's frame of reference for what is considered authentic or traditional. Many First Nations artists active in British Columbia today find their inspiration in the narratives of the past while commenting on the reality of the social, political and environmental issues present in world around them. Join us for this exhibit examining the general principles and formal visual language used in the expression of First Nations artistic cultural traditions while exploring the innovative approach taken by artists today.
Photo Gallery: salishan - Temporary Exhibits - 2016 - Tradition and Innovation will appear here on the public site.
2015
Canadiana: Works from the Fibre Art Network
August 17 to November 8, 2015
The Langley Centennial Museum is proud to present Canadiana, a travelling exhibition of 30 works by members of the Fibre Art Network. Participants were asked to utilize fibre to demonstrate how the unique history, environment, and culture of Canada contribute to a sense of place for each artist. Join us as we explore the multifaceted Canadian landscape through the medium of fibre. From the coasts of British Columbia, through the plains of the prairies to the not so barren tundra of the Yukon, these artists employ cotton, wool, silk, organza, felt and more to create stunning Canadian fibre art.
2015 Foyer Artist: Hannah Bennett
Hannah Bennett is a practicing printmaker and painter from Langley, BC. She graduated from the University of the Fraser Valley from 2011 and is an associate member of Malaspina Printmakers and Dundarave Print Workshop on Granville Island. She also instructs art classes and workshops at the Langley Centennial Museum and the Burnaby Art Gallery and is an assistant technician at Kwantlen Polytechnic University in Surrey. Her works on display are of Fort Langley landmarks.
Fort Langley: Local Sites
After spending some time in Fort Langley over the summer and fall months I got to know it a bit better; its people, sites, histories and controversies. I had a good time strolling through the streets and picking out some interesting spots that would translate well into printed linocuts. Cutting out the lino blocks was an informative endeavour. Time was spent figuring out how to show texture, when to leave areas bold and black and when to whittle out areas showing fine lines and dappled details. Sometimes bold lines were best, sometimes small flicked-out cuts were better.
Cutting a lino block always feels like a cathartic action, a stripping or shedding away that produces something out of nothing. A place where the image develops out of repeated line un-work. It is the tactility, maneuverability and delight surrounding the process of lino printing that always calls me back. It is a humble and direct way of producing an image that expresses so much with so little.
Can't Catch Me: A Look Back at the Langley Speedway
May 6 – August 9, 2015
In the mid-1960s, an oval racetrack opened in south Langley that would be called the fastest in the circuit. The Langley Speedway invigorated the local racing scene and brought thousands of spectators on weekends over the summer for almost twenty years.
Now, 50 years on, this exhibit takes a look back at the track and remembers the people, the cars, and the controversy that still makes it a hot button issue for racing enthusiasts and opponents alike.
Transpose: The Trinity Western University 2015 Graduate Art Exhibition
March 31 - April 28, 2015
Transpose suggests a shift in the ways we think about the world. We abandon our underlying assumptions, taking up instead an attitude of curiosity and speculation. We are exploring a new way of looking at our fears, our emotions, and our memories. Relying on the creation of new objects in the form of drawings, paintings, and photographs, we strive to represent the intangible psychological and emotional quotients of our human nature. These pieces are a collection of narratives and inquiries. We've taken our experiences and observations, and transposed them into material form. These works address our transitory state in a deeply personal and vulnerable way. After years of trial and error, self-doubt and self-discovery, we've come to a shift. A shift in perspective and a shift in direction.
The Langley Centennial Museum is pleased to present Transpose, the Trinity Western University Graduate Art Exhibition. TWU has partnered with the museum for seven consecutive years to present new contemporary art exhibits, while gaining knowledge in working with a curator and a public gallery. This year, for the first time, graduating artists Katelyn Anderson, Chantal New, Meredith Radwanski, and Marissa Wagner with showcase their works beside solo shows from honours student artists Diana Hiebert and Olivia de Fleuriot. Hiebert's show seeks to explore the relationship between self and her changing ideals, while de Fleuriot's works explore the space between people located in the urban environment using paint on photographs.
An opening reception will be held at the museum on Tuesday, March 31, from 6:30 - 9:00 pm. All are welcome. Additionally, you're invited to join all of the student artists as they talk about their artistic experience of moving beyond skill development to finding their voice, and provide art demonstrations on Wednesday, April 1 from 4:00 – 5:30pm. This free event promises to be an interesting event for other artists and the general public! To register, please contact the Langley Centennial Museum.
Collected and Curated: Artifacts from the Permanent Collection
January 11 - March 22, 2015
The Langley Centennial Museum's newest exhibit take a look back at the history of the museum's collection. Want to know what kind of gems are stored in the collection and rarely get to be displayed? Now is your chance!
The museum is one of the oldest community museums in the province. Its collection was originally established through the efforts of the Native Sons of B.C. After purchasing the last remaining Hudson's Bay Company fort building, the storehouse, from the pioneer Mavis family, the Native Sons collected artifacts from the Langley area that related to its pre-contact and post-contact history and exhibited them there. Part of this early assortment of artifacts became the basis for the museum's collection when it opened in 1958. The remaining items stayed at the Fort Langley National Historic Site.
While early collecting reflected the community's HBC and pioneering past, it also collected the exotic; travelling to a museum much like a trip around the world and allowed people to see things they might not have otherwise. Later, the collection grew to include more artifacts that were examples of pioneer life, but often the age and look of the item was more relevant than the actual connection to Langley's history.
In later decades, gaps were filled in the collection, sometime for exhibit purposes, and the collection continued to grow in local relevance. What we collect today reflects the community's history and the present.
Come by to see some of the interesting, unique, and beautiful items the Langley Centennial Museum has been fortunate to collect over the last 57 years!
2015 Foyer Artist: Marie Stoney
Marie Stoney studied under the influence of the Group of Seven and greatly admired the works of Emily Carr. A graduate of the University of Victoria and the Emily Carr Art College, Stoney travelled extensively as she painted but settled in her native British Columbia.
2014
12 days of Christmas at the Museum and Children at Play
Come and see Christmas trees decorated by local artists and arts groups, including the Fort Langley Artists Group, the Langley Arts Council, and the Langley Quilters Guild. Each is choosing one of the verses from the song to interpret, and it is neat to see how they turn each tree into a work of art!
Children at Play is visiting from the Royal Ontario Museum, and looks at how Canadian children have always worked hard to have fun by investigating our favourite games and toys over the past 130 years. Despite developments in science, medicine and technology, some things have remained constant. Children still play with dolls and farm sets. Skating, tobogganing and playing hockey remain an integral part of Canadian winters.
The exhibition is presented in English and French, and is divided into "Winter Sports," "At Home," Hand-made and Factory-made Toys," and "Educational Toys." Children of any age will enjoy both of these exhibits!
Mementos & Memories: Langley & the Second World War
August 17 - November 11, 2014
Mementos & Memories: Langley & the Second World War tells the story of the War through the experiences of Langley people. Through artifacts and firsthand accounts of service overseas and service on the home front, the exhibit tackles subjects such as fundraising efforts at home, enlistment, and internment.
Using The Langley Advance newspaper, which was founded in 1931, and quotes from the museum's oral history collection, the exhibit shows how Langley people were coping and adapting to the day-to-day struggles of war time by salvaging, rationing, and fundraising.
Highlights of the exhibit include a soldier doll that was given to Elsie Gunter by her uncle Clarence Vaughan, a wedding dress worn by Gertrude Barton of Brookswood, and the scrapbook of Fort Langley's Fritz Ziegler, which includes mementos of his internment. Red Cross-issued knitting instructions that belonged to Margaret Sophia Johnson of Willoughby and Private Richard Straw's great coat and medals are also on display.
Visitors to the exhibit are encouraged to bring a copy of a wartime photo of family members from to share on the Board of Remembrance.
Because of the relevant subject matter, this exhibit will be open on the afternoon of November 11 so that the public can visit following Remembrance Day ceremonies at local cenotaphs.
The museum is hosting a special event in connection to this exhibit called "Until Everyone Comes Home: Variety Show & Vignettes of the Second World War" on Saturday, November 1 from 2:00 - 4:00pm at the Chief Sepass Theatre. For tickets or for more information, please contact 604.532.3536.
Art Deco Chic with Ivan Sayers and Claus Jahnke
May 10 - August 4, 2014
The museum is so excited to welcome well-known clothing collectors Claus Jahnke and Ivan Sayers back to the Langley Centennial Museum, returning to us for the first time since 2010's "Plastic Fantastic," the 1960's clothing show.
The Art Deco movement had a profound influence on the world of fashion in the 1920s and 1930s. Art Deco is an abbreviation of the title of an exhibition produced in Paris in 1925, "L'Exposition des Arts Decoratif." This was the first major display of examples of applied art styles reflecting the trend for modernism, cubism, and simplicity.
In the world of fashion, the Art Deco movement reduced the body to its simplest geometric form, a column, or when represented in two dimensions, a flat rectangle. Prior to the First World War (1914-1918), fashionable women presented themselves as a series of ornate curves dressed in complex, tailored garments and often heavily corseted. After the brutality and disillusionment of the war, practicality, simplicity, and even austerity became the norm, even the ideal. Figures exaggerated with corsets and padding were replaced by figures hidden under loose-fitting, sack-like garments in the chemise style in the 1920s. In the 1930s the natural figure re-emerged, but in fashions that echoed the repeated geometry of the Art Deco style.
Through the 1920s, dresses gradually became less loose and hemlines rose. The legs became more visible. Although the figure was still virtually invisible, the exposure of the legs added a provocative element to clothing that was otherwise asexual.
The pieces chosen will reflect the social and political changes that happened during this period, including how fashion changed post-war during the relatively prosperous 1920s, and then again in the days of the Depression. Items presented will contrast what was happening on the world's fashion scenes in Paris and Berlin with what would have been worn on the streets of Langley Prairie.
All are welcome to an opening reception at the museum on Saturday, May 10 from 2:00 – 4:00 pm. For more information, please contact the Langley Centennial Museum.
ALSO…there will be two Vintage Fashion Shows held on Sunday, June 1, which will provide Mr. Sayers with the opportunity to share his wealth of knowledge about the fashions of the day to a captivated audience. His wit and humour - coupled with the history of the fashions and the people who wore them – makes the experience unforgettable. Enjoy a matinee at 2pm, or an evening show at 7pm. Each performance will last about an hour and a half, and include a brief intermission.
Tickets are $20. Call 604.532.3536.
2014 Foyer Artist: Barbara Boldt - Daughter's Eyes, Mother's Hands
Since 1975, Barbara has been a dedicated painter, creating memorable images of British Columbia's unique landscape.
From her successful series "Earth Patterns" to her local images and floral work, Barbara focuses on the ever changing face of Nature's creations. She brings a rich life experience and understanding to her pastel, oil and watercolour paintings.
Trinity Western Students Exhibit
12 graduating students from the School of Arts, Media & Culture at Trinity Western University are featured in this exciting exhibition, a collaboration between the School and Langley Centennial Museum. Several students will also participate in an Artist in Residence event at the Museum on Wednesday, April 2 from 4:00 – 5:30 pm. Come meet these talented emerging artists and view their work.
2013
Motherhood Art Exhibition and Auction
Langley, BC – The Langley Centennial Museum and the Langley Memorial Hospital Foundation are collaborating on a unique art exhibition focused on motherhood, titled The Art of Motherhood. In doing so, the two organizations are asking artists to submit works for inclusion in an exhibit and auction, scheduled for Summer 2013. Plans are for the exhibition to raise awareness and funds for The Vandekerkhove Family Maternity Centre.
Throughout history, mother and child were often depicted in paintings and sculptures. From Egyptian frescoes to contemporary works by Canadian artists, children and mothers have been celebrated. A display featuring motherhood-inspired art is the perfect opportunity to showcase Langley's longstanding medical history while raising funds for the ongoing campaign to expand the Maternity Centre. The hospital, which was built sixty five years ago, has natal facilities that have not kept pace with the birthrate. Langley Memorial Hospital has one of busiest maternity units in the region, with approximately 1,800 births per year. Staggering statistics demonstrate that the projected number of births at LMH is expected to increase to more than 2,300 by 2020.
The number of births at Langley Memorial Hospital has increased from 85 per year in 1948 (when LMH opened) to 1,800 per year in 2010. But the number of beds for these babies to be born in has only increased by 2 – from 11 to 13.
Under the theme "It All Starts Here", the Foundation has undertaken a capital campaign to raise $5.35 million, for a long-overdue expansion to their maternity unit and clinic, from private partners and members of the community, so they can continue to give the newest members of our community the best possible start in life. The Foundation relies on the generous support of the community to ensure that the highest quality of healthcare can continue to be delivered right here at home in our community hospital. The Foundation is pleased to announce that more than $2.6 million has been raised to date!
The idea for The Art of Motherhood exhibition initially surfaced in conjunction with the museum's upcoming exhibition From Bedpans to Bandages: the History of Medicine in Langley. Both exhibitions hope to raise awareness of Langley's pioneering medical history as well as the new needs of the growing municipality. The Art of Motherhood exhibit will be held from May 9 to July 4, 2013, with an opening reception at a Mother's Day tea on Sunday, May 12th. The live auction will take place at a garden party at the Museum on Thursday, July 18th, after the exhibition closes but during From Bedpans to Bandages.
Artists aged 15 and above are invited to submit works for adjudication, presentation and sale. Participants are expected to commit a minimum 50% donation of the proceeds of the final bid amount that their works sell for at auction. The deadline for entries is Friday, April 12th for an opportunity to participate in history and raise funds for the maternity centre expansion!
Established in 1985, the Langley Memorial Hospital Foundation has raised more than $30 million to support Langley Memorial Hospital and the healthcare needs of the Langley communities.
Voices of the Town: Vaudeville in Canada
January 16 - March 13, 2013
Are you ready to be transported back in time to the wild fun of Vaudeville? The Langley Centennial Museum is pleased to welcome its newest exhibit Voices of the Town: Vaudeville in Canada travelling from the Peterborough Museum & Archives. This visually stunning, bilingual exhibition explores the remarkable story of Vaudeville through the lens of the Roy Studio.
In an era before television and radio (1870s to 1920s), Vaudeville was the most popular form of entertainment in North America. It featured fast–paced variety sketches, comedy routines, songs, dance, acrobats, amazing feats and unbelievable stunts, on stages across the country. A visit to one of the opulent Vaudeville theatres was almost as exciting as the performances themselves.
Voices of the Town recreates the ambience of an evening at the theatre, complete with a stage, reproduction ticket booth and kinetoscope (early film viewing machine). Photographs from the Ballsillie Collection of Roy Studio Images and the authentic costume of "Oklahoma Jack" (a sharp-shooting Vaudevillian who performed with Buffalo Bill Cody) are sure to make this exhibition a memorable and entertaining experience for everyone.
Come discover what entertainment was like before television! Don't miss out on this exhibit or the Vaudeville Variety Show on Saturday, February 23 at the Fort Langley Community Hall. Contact the museum for more information or tickets for this fantastic show!
2012
Sewn Together: Quilts of the Fraser Valley Quilters' Guild
September 11, 2012 – January 7, 2013
The Langley Centennial Museum is pleased to announce its newest exhibit, Sewn Together: Quilts of the Fraser Valley Quilters' Guild, on display from September 11 to January 7. Featuring 25 local quilters, the exhibit showcases the stories behind the quilts and the hard work that is devoted to creating these masterpieces.
The Fraser Valley Quilters' Guild is celebrating its 35th anniversary by returning to its roots at the Langley Centennial Museum. In 1977, quilters began meeting in the Museum's basement to discuss their ideas and aspirations for an organized guild. The organization has since grown exponentially with a membership of over 250 quilters from all across the Fraser Valley.
The exhibit will showcase the quilting works of art created by the Guild's members as well as the history of the Guild. One of the oldest and most successful public services that the Guild offers is its support for the Neo-Natal Unit at BC Children's Hospital. Quilters make miniature quilts to fit over the incubators of babies who are born prematurely. These "preemie" quilts, as they are known, are created by Guild members and now number approximately 400 - 600 quilts each year. Come see these miracle quilts on display before they find their homes with babies at BC Children's Hospital.
In addition to the Guild's quilts, one of the Museum's own quilts will be on display. The "Friendship Pattern" quilt was made by Murrayville residents in 1931. The names of local pioneers can be seen throughout the quilt.
The opening reception for Sewn Together: Quilts of the Fraser Valley Quilters' Guild will be held on Thursday, September 13 from 7 - 9pm at the Langley Centennial Museum, 9135 King Street, in Fort Langley. If you are interested in quilting, visit the Museum for one of our quilting demonstrations on September 22, October 20, November 17, or December 1.
Here and Now: Contemporary Kwantlen First Nations Art
May 9 – September 3, 2012
The talents of Kwantlen First Nation artists will be in the spotlight when the Langley Centennial Museum presents its newest exhibit, Here and Now: Contemporary Kwantlen First Nations Art, on display from May 9th to August 29th. Featuring the work of Brandon Gabriel and Phyllis Atkins, the exhibit will highlight the connection between Kwantlen First Nation's past and present.
Works in the exhibit will explore the diverse methods and inspirations of both artists, and many pieces have particular significance for the entire Kwantlen First Nation. One of the most substantial pieces will be a 25 foot canoe. Over the years, the canoe has travelled down many exciting and daring waterways. It has recently undergone refurbishments, including a new frame, seating, and gunnel made entirely from Stanley Park cedar that fell during the great winter storm of 2006. The canoe will be painted by Gabriel and given a proper name at the exhibit's opening reception.
Atkins' oil paintings also depict the community of the Kwantlen. Many of her paintings express the Kwantlen's journey of life and the sacredness of precious resources. Her Salmon painting represents the importance of the salmon industry to Kwantlen peoples and is inspired by her husband's carvings, which are on display at the corner of River Road and Mavis Street in Fort Langley.
The opening reception for Here and Now: Contemporary Kwantlen First Nations Art, will be held at the Museum on Tuesday, May 15, 6 – 9pm. The evening's celebrations will include a full salmon dinner, a blanketing ceremony, and a traditional canoe blessing, which will be the first of its kind for the Kwantlen First Nation in 100 years.
Brandon Gabriel, Drums
Resurface: The Trinity Western University Grad Art Show
The Langley Centennial Museum is pleased to announce the exhibition "Resurface: The Trinity Western University Grad Art Show." TWU has partnered with the Museum for four consecutive years to present the exhibit, and this year nine TWU students will showcase their work. Melissa Alvaro, Chapman Chan, Chelsea Davidson, Rachel Dyck, Elizabeth Ellis, Katrina Grabowski, Braden Jones, Laura Klassen, and Rebecca Sellers have devoted their talents to preparing the multiple features of the exhibition and will be contributing works that are the culmination of their art education.
Artists' materials are constantly repurposed over time. Canvases are built up with layers of theory, practice, and medium. Moulds are broken and recast, just as clay can continually be renewed by the potter. The past is not simply disregarded; instead, it informs the foundation of the future.
In the same way, the artists have invested four years of academic study which is culminating in this exhibition. What has been taught, explored, and wrestled with inspires their artistic decisions. This exhibition is not a final surface. What is presented at the museum will one day be a layer of memory. But now is the time for celebrating the images presently visible, the dialogues currently exchanged, and the artists' initial emergence into professional practice.
An opening reception will be held at the museum, located at 9135 King Street in Fort Langley, on Thursday, March 29, from 6:30 - 9:00 pm. All are welcome.
Food For Health
January 15 - March 18, 2012
The staff at the Langley Centennial Museum is happy to bring our community and visitors Food For Health, a bilingual travelling exhibit created by the Canada Agriculture Museum, in collaboration with the Canadian Institutes of Health Research and other exhibition partners. Food for Health addresses, from a consumer's point of view, concerns and questions that many Canadians have about the safety of their food supply, and the role food plays in ensuring good health.

By combining hands-on interactive components, multimedia technology, historical artifacts and graphics, the exhibition showcases Canadian initiatives designed to ensure that our food is as safe as possible. Food for Health provides Canadians with the knowledge they need to protect themselves against food-borne illnesses through safe food-handling practices. It will also investigate evidence of links between diet, physical activity and obesity, and illnesses such as diabetes, heart disease and cancer.